Jet Technologies' self-adhesive label stock extends a sense of luxury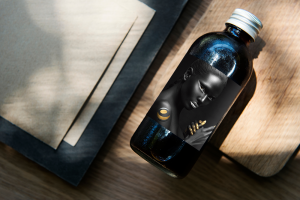 Jet Technologies has announced its new Entice range of soft touch films for consumer product labels, that have the power to add additional value and a sense of luxury.
In an increasingly competitive market, brands need to be able to capture the attention of consumers within thirteen seconds when purchasing a brand in-store. A product's label is integral in grabbing a consumer's attention and influencing a judgement that it stands out from the rest. To meet this demand, Jet Technologies has released a range of labelling products to give products a more premium look and feel.
"Australian consumers want products that demand our attention," said Jack Malki, Director, Jet Technologies. "And consumers are becoming more and more influenced to purchase products that evoke an emotional response in them through sensory touch."
The famous Soft Touch films are now available pre-laminated as label material, with the Entice range conveying the sensations of luxury and exclusivity. With these materials ready for print, the applications are endless, but examples include boutique beverage labels, gin labels, whiskey labels and wine labels (water resistant substrate with excellent in ice-bucket performance). Other suitable products might include higher value beauty products and cosmetics, perfumes, as well as boutique commercial printing for weddings, invitations and foiling.
Soft Touch Overlaminate adds soft touch to any substrate, for all types of printing, while the Entice Pressure Sensitive range is available in matte black, gold, and silver label stock with a premium soft touch finish for label printing. Jet Technologies is leading the way, extending that same look and feel with its films so a brand can achieve the same provocative experience from their marketing brochure, right through to their folded carton, and now on to the label.
"By opening up availability and capabilities in boutique range labels we are able to meet the labelling and packaging needs of brands whose products are being positioned at the top end of the market," said Jack.
"Our Entice range will also tick all the boxes for brands looking to benefit from the extrinsic aspect of their products," added Jack. "After all, a customer's first impression of a brand comes from the label and packaging, and companies should not underestimate the impact of the sensory experience and enhancing the most provocative of graphic arts."