Fastest and most flexible filling & dosing machine launched for food manufacturing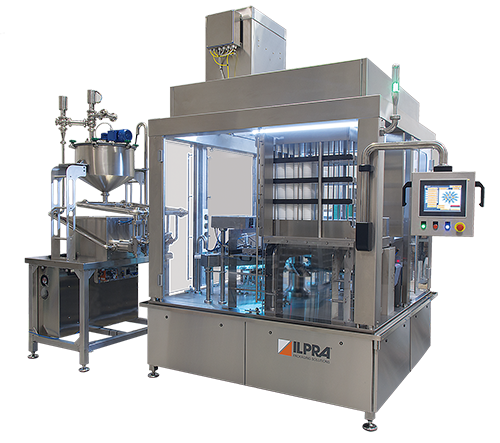 The Ilpra Fill Seal R12/4 Tronic delivers food manufacturers a fast and efficient way of getting their dairy, dips, desserts, soups, condiment sauces and yoghurt products ready for market.
"Supermarkets are demanding new products each and every year, and food manufacturers now need to find ways to innovate. However, with a fixed production profile this can be difficult," said Daniel Malki, General Manager, Jet Technologies. "The Ilpra R12 filling machine is the next step towards acheiving a flexible future-proofed technology with the speed to produce efficiently."
About the Ilpra R12
The Ilpra Fill Seal R12 is a top of the range high speed rotary filler and sealer with up to 12 stations, which offers food manufacturers the flexibility to use each station for different purposes. The machine is designed to very precisely fill denestable cups.
"The 12 station filler, with the speed and flexibility of 9,000 cups per hour, allows food manufacturers to create their product their own way with a modular design," added Daniel. "It is completely customisable to each food manufacturer's requirements, such as dosing location(s) in the filler and type of doser, filling volumes and speeds."
The machine is designed for a practical and very easy operation with a touch screen panel.
Its sturdy structure and the high quality servo-driven components provides a filling accuracy of +/- 1%, combined with industry-leading fill speeds. This gives food manufacturers an efficient machine, no matter the environment. R12 machine is a fully sealed machine to prevent any dust to penetrate in the cups, filling and sealing small cups as well as buckets up to 160mm in diameter
"Ilpra has a strong reputation for cup fill seal supply in Australia through Jet Technologies, and this new machine is the strongest offering for the local market to date," added Daniel. "Jet Technologies has high expectations that this machine will allow food manufacturers to build solutions to meet the rapidly changing tastes of Australian consumers."